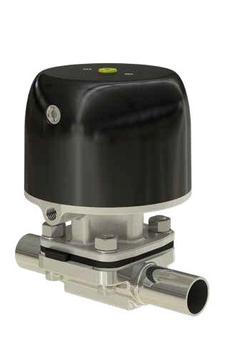 NEW YORK, NY (April 2, 2019) – Crane ChemPharma & Energy, a business of Crane Co., will present its latest solutions for the Life Sciences industry at the 2019 Interphex Expo, April 2-4 at the Jacob Javits Center (Crane Booth #3831). Among Crane's innovations on display is the Saunders® P345 compact polymer pneumatic actuator which will be showcased to the industry for the first time at Interphex.
Designed to operate at 4.5 bar while maintaining industry-leading closure performance of up to 10 bar at 100% pressure drop, the Saunders® P345 will simplify plant infrastructure and provide a lower total cost of ownership compared to existing technologies. This performance is achieved within a highly compact dimensional envelope and at a 30% lighter weight compared to typical stainless-steel variants, reducing dead-leg between associated valves. The use of polyamide housing and a stainless-steel bonnet provides a robust interface ensuring product reliability that can endure typical industry down regimes. Capable of withstanding temperatures between -10° and 100°C, the Saunders® P345 is available in sizes DN8 (0.25″) to DN100 (4″) in spring-to-close, spring-to-open and double acting modes of operation.
"This is our 18th year exhibiting at the Interphex Expo and every time, we try to bring not only our latest and greatest, but our most innovative solutions for the life sciences industry," said David McClymont, Saunders® HC4 Business Line Manager, Crane ChemPharma & Energy. "The new Saunders® P345 Actuator, like our other products on display, has been designed to provide superior performance with features that stay true to our commitment to innovation and that address unmet customer needs while reducing total cost of ownership."
In addition to the Saunders® P345, Crane will showcase the following solutions:
ER Resilience Diaphragm
Offering superior chemical resistant to typical Biopharm process media, the Saunders® ER Resilience EPDM Diaphragm features enhanced surface finish integrity to assist process purity (which is ASME BPE compliant). Its optimum compression set ratio when compared to typical EPDMs reduces the need for re-torque and ensures a seal to the atmosphere.
EX Endurance Diaphragm
Ideal for steam distribution and supply, sterile barrier, and block-and-bleed applications, the Saunders® EX Endurance Diaphragm offers high temperature performance and resistance to long term exposure at elevated temperatures, extending product life at Steam Sterilization Temperatures and reducing the requirement to re-tighten fasteners after installation. It features an improved seal-to-atmosphere performance and reduced requirements for re-torqueing of fasteners after thermo cycling
Saunders® S360 Actuator
The S360 is a compact, lightweight, piston-type pneumatic actuator which has been developed to deliver superior performance for sterile BioPharm applications. Permitting remote operation of the valve, either as an alternative to manual operation or as an integral part of a control system, the S360 provides reliable performance, high cycle life, lower air consumption and more compact design versus diaphragm type actuators. It features a modular range with compact dimensional envelope to reduce dead-leg between associated valve, and its compact size with 360° rotation also offers a flexible installation.
Saunders-VUE Smart Sensors
Designed to maximize plant efficiency by eliminating false alarms and reducing set-up times, the Saudners-VUE line of smart sensors provide positive and accurate confirmation of the valve position while delivering a wide range of diagnostics for continuous monitoring and preventive maintenance. The product line consists of two different state-of-the-art sensors:
The Saunders I-VUE, designed for end users because of its enhanced diagnostics, continuous electromagnetic sensing technology with 0.2mm accuracy, and easy, self-calibrating feature.
The Saunders M-VUE, ideal for equipment manufacturers because of its modular and compact design, as well as its remote and local valve positioning capability and solid state sensing technology with 0.3mm accuracy.
For more information on these innovations, as well as Crane's entire portfolio of solutions, visit Crane online (www.cranecpe.com) or stop by the booth to speak with its team of technical experts.
---
About Crane ChemPharma & Energy
Crane ChemPharma and Energy (within Crane's Fluid Handling segment) designs and manufactures a variety of high performance products including: highly engineered check valves, sleeved plug valves, lined valves, process ball valves, high performance butterfly valves, bellows sealed globe valves, aseptic and industrial diaphragm valves, multi/quarter-turn valves, actuation, sight glasses, lined pipe, fittings and hoses, and air operated diaphragm and peristaltic pumps. Its trusted brands (in alphabetical order) ALOYCO®, CENTER LINE®, COMPAC-NOZ®, CRANE®, DEPA® & ELRO®, DUO-CHEK®, FLOWSEAL®, JENKINS®, KROMBACH®, NOZ-CHEK®, PACIFIC, RESISTOFLEX®, REVO®, SAUNDERS®, STOCKHAM®, TRIANGLE®, UNI-CHEK®, VALVES®, WTA®, and XOMOX® offer customers
complete and innovative product portfolio designed for the most demanding corrosive, erosive, and high purity applications. Among the industries served are the chemical processing, biotechnology, pharmaceutical, oil & gas, refining, and power generation. For more information visit www.cranecpe.com
Crane Co. is a diversified manufacturer of highly engineered industrial products. Founded in 1855, Crane provides products and solutions to customers in the hydrocarbon processing, petrochemical, chemical, power generation, unattended payment, automated merchandising, aerospace, electronics, transportation and other markets. The Company has four business segments: Fluid Handling, Payment & Merchandising Technologies, Aerospace & Electronics and Engineered Materials. Crane has approximately 12,000 employees in the Americas, Europe, the Middle East, Asia and Australia. Crane Co. is traded on the New York Stock Exchange (NYSE:CR). For more information, visit www.craneco.com.
Contact:
Aneta Stephens
001-647-282-4767
astephens@cranecpe.com