DEPA® Air Operated Diaphragm Pumps
Contact Info:
Tomlinson Hall & Co Ltd
Lagonda Road
Cowpen Lane Industrial Estate Billingham
TS23 4JA , UK
PHONE +44 (0)1642 379500
Corporate Headquarters CRANE ChemPharma Flow Solutions
4444 Cooper Road
Cincinnati, Ohio 45242-5686
PHONE +1 513 745 6000
FAX +1 513 745 6086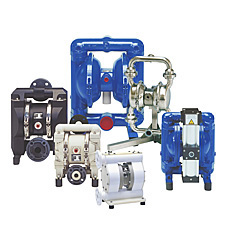 DEPA® Air Operated Diaphragm Pumps is one of the world's leading brands of superior quality, positive displacement pumps.
They provide reliability, efficiency and transfer control for all liquid and sheer sensitive materials, can handle viscous and abrasive products and often work in the toughest conditions and most demanding applications.
DEPA pumps are self-priming, and can run dry without damage.
They are the only AOD pumps with ATEX zone 0 compliant certification worldwide.
Being designed in a modular version, DEPA pumps ensure that both number of individual parts and stock keeping is kept at a minimum. This results in short down time and low maintenance costs. Besides, the modular design allows flexibility for the pumps to be used in other applications.